So, I know we still have over two months to go, but Christmas excitement is pushing me to plan gifts, meals and deco way ahead. To be honest, as soon as the temperatures drop you can see me sporting a Santa hat and harassing my close ones with "what do you want for Xmas!?" interrogations. When you think about it, it's not that nonsensical to plan ahead! Last year we I left planning so last minute, in the end we decided to book at table at McGowans in Dublin. It was fantastic but I'd always prefer to have Christmas dinner at home with just the family which is why I believe it is never too early to start planning. Give it three more weeks and all your diaries will be bursting with end of the year parties and hangovers. Just you wait. You'll be happy to have planned your holidays in October then.
Anyhow. Today I'd like to talk about Christmas tables. They're one of my favourite aspects of the season. Partly because Christmas feasts are what I live for, partly because they encompass deco, food and friends, all my favourite things. At Xmas, you'll want to prepare a lively, festive, glitzy table. Wow your family and guests with nice tablecloths, plates, glasses, original cutlery and fine deco accessories. To light the space, don't hesitate to stock up on candles and photophores. Do create an original centrepiece for the table, and find some glass bell jars – they're super trendy for placing little scenes or plants in.
For your Xmas table you'll want to find a theme and a colour palette to work around. Not very inspired? I've rounded up some gold & blue themed ideas, and a natural themed one. Have a look!
---
Magical in blue
Dark blue and grey don't have to be sad colours! These cold hues can serve as a backdrop for a cosy deco, and make for a sober, design, yet welcoming table. You could hang a thin branch overhead, like floating in a cloud. From it, hang seasonal decorations, over pristine white plates. Choose some natural matte materials for the fabric (table runner, napkins) to contrast with the Xmas glitz, and add some golden glasses for the shine. Love it!
---
Precious in gold
A gold and white table is plain yet refined. It's a really easy theme to set! Add some subtle Xmas decoration details, that will embellish the table in the way of little jewels. Wreath, baubles, golden cutlery: they make the table shine, and will complement some fine crystal for the glasses. Tone down the luxury with an immaculate white tablecloth. How sophisticated.
---
Natural Christmas
Everything here evokes the woods and their magic. A table runner can draw an enchanted forest, populated by little fox, owl, and stag figurines dotted around. Little potted plants can bear the name-tags, bark pieces and little logs can limit the central forest, some copper baubles create warm reflections, amber photophore diffuse soft welcoming light. This one is my absolute favourite – its charming, enchanting, almost fairy-tale like!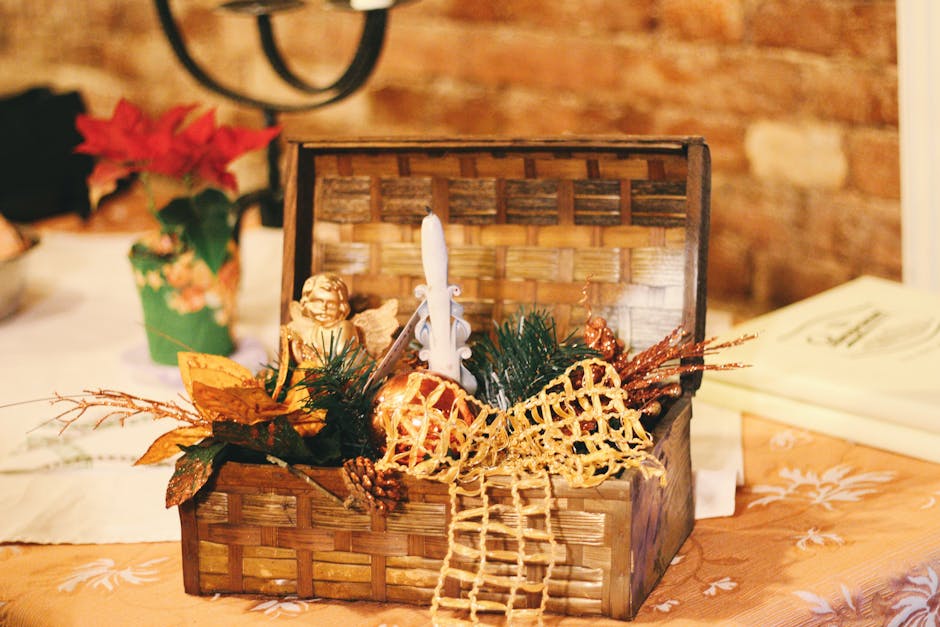 I like a Christmas that is warm and casual and smells like cinnamon. Some like the glitz and luxury that comes with dressing up for a nice dinner and sipping expensive wine – which goes well with a sophisticated setting. What Christmas do you prefer? Do you mix it all? What are you planning for your table? Hey, are you even planning yet!?