For anyone hesitating on purchasing a somewhat expensive (but oh so useful and prettyyy) Google Home, there's the newcomer from Google, revealed recently : the Google Mini is a cute, small, and performing connected speaker … that costs a third of the price of the Google Home.
Google has gone and done the whole back-to-school thing in full style again. Sundar Pichai's company held a conference in London earlier this month. It presented a ton of new products, including the Google Home Mini. A miniature version of the Google Home, the first version of the smart speaker came out earlier this year. Now, despite its small size and simple name, don't underestimate the power of this little beast …
The vocal assistant is more compact than its older brother (this one's barely bigger than a donut) and benefits from a softer design. A thin layer of fabric covers the top of the device. Underneath are four coloured LEDs. The device is available in three colours: red, white and black. Ideal whether you want it to disappear in your home deco, or to stand out.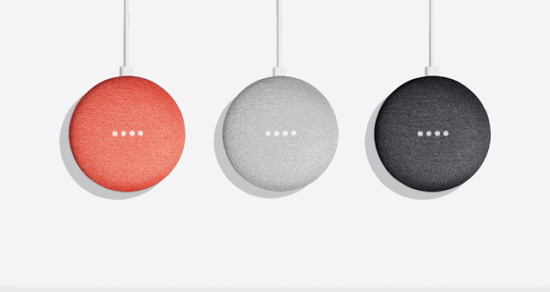 An attractive price tag
Google has improved the results for the Google Home Mini thanks to artificial intelligence. Distinguishing different users' voices should be easier. This should make daily use easier too. On that note, the speaker does not have a jack input, and so exclusively functions in wireless mode. It is touch sensitive and can diffuse music with a simple prolonged press. Naturally, the sound quality for music will be inferior to that of the first Google home, which is understandable from its size and cost: a friendly £49. Or about a third of the price of the first Google Home.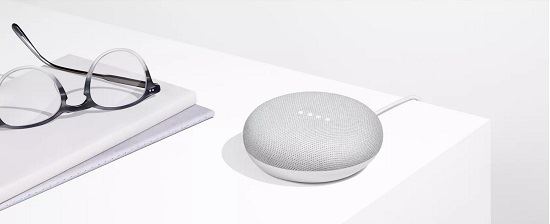 Note: a Google Home Max has been revealed; it's the premium version for the range, and has been announced at 399 dollars. Not much more information has been given on this subject.
---
Now, I could definitely could see this cute device on one of my shelves or an end table in my home, and I do believe the Google Home Mini should seduce new users thanks to its price tag. Plus, it has the same functionalities, such as the use of Chromecast and mainly Google Assistant.